Caution: this is old EurekaLog 6 documentation. This is not the latest version.
Use this Viewer to analyze and process all the bug reports received from EurekaLog (.elf files).
You can open this program with a double-click on the Log file (.elf) or using the "View Exception Log..." new item in the Project IDE menu.
To analyze an encrypted Log file you must enter the password in the relative "Password" field pressing the "Refresh" button.
Use the "XML" button to export the Log file in XML format.
Use the Delete button to remove the currently selected bug report.
use the Print button to print the current selected bug report.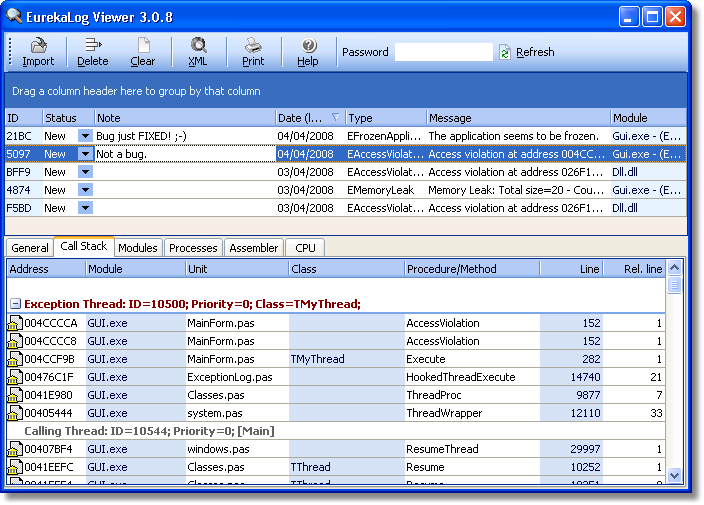 ---
Send feedback...
Build date: 2022-01-17
Last edited: 2018-06-14

PRIVACY STATEMENT
The documentation team uses the feedback submitted to improve the EurekaLog documentation. We do not use your e-mail address for any other purpose. We will remove your e-mail address from our system after the issue you are reporting has been resolved. While we are working to resolve this issue, we may send you an e-mail message to request more information about your feedback. After the issues have been addressed, we may send you an email message to let you know that your feedback has been addressed.

Permanent link to this article: https://www.eurekalog.com/help/eurekalog/old_eurekalogviewer.php