WER (Windows Error Reporting) dialog is a standard system error dialog. This dialog is preferred dialog in your application, if you can afford it (see using WER for more info). Otherwise you can use the MS Classic dialog instead.
Visual appearance and behaviour of this dialog depends on host OS and host OS's settings. It doesn't depend on your application, though you have some options to change (see customization).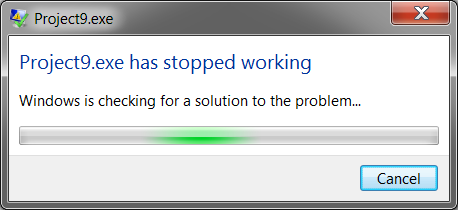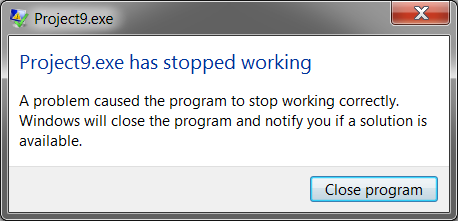 Windows Error Reporting on Windows 7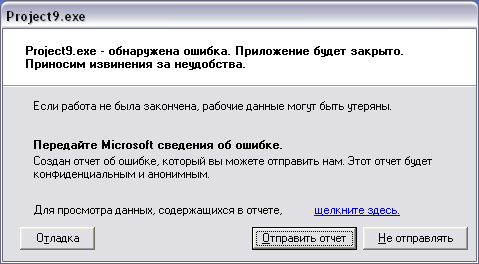 Windows Error Reporting on Windows XP
This dialog invokes system error processing. It works on any supported OS, but it's highly dependent on host OS's capabilities.
Notes:
| | |
| --- | --- |
| 1. | This dialog sends bug report to Microsoft's server using the standard procedure. Any sending method that you setup in EurekaLog's options will be ignored. However, you still can send your custom files (this feature may be not supported on all OSs). |
| | |
| --- | --- |
| 2. | The capabilities of this dialog depends on host OS. Not all options are available for all OSs. Please, refer to MSDN articles. |
| | |
| --- | --- |
| 3. | Usually it's not a good idea to use this kind of dialog for reporting leaks. |
| | |
| --- | --- |
| 4. | Your application will be terminated after this dialog, so be sure to setup some restart and recovery options. |
Constant: edtWER.
See also:
---
Send feedback...
Build date: 2022-03-28
Last edited: 2019-03-26

PRIVACY STATEMENT
The documentation team uses the feedback submitted to improve the EurekaLog documentation. We do not use your e-mail address for any other purpose. We will remove your e-mail address from our system after the issue you are reporting has been resolved. While we are working to resolve this issue, we may send you an e-mail message to request more information about your feedback. After the issues have been addressed, we may send you an email message to let you know that your feedback has been addressed.

Permanent link to this article: https://www.eurekalog.com/help/eurekalog/wer_dialog.php