If all conditions (EurekaLog is enabled in your application AND EurekaLog IDE Expert is installed) are true - then everything should be OK (see also: compilation from command line). You can confirm this by analyzing your executable module after compilation.
Open Start / Programs and find EurekaLog folder: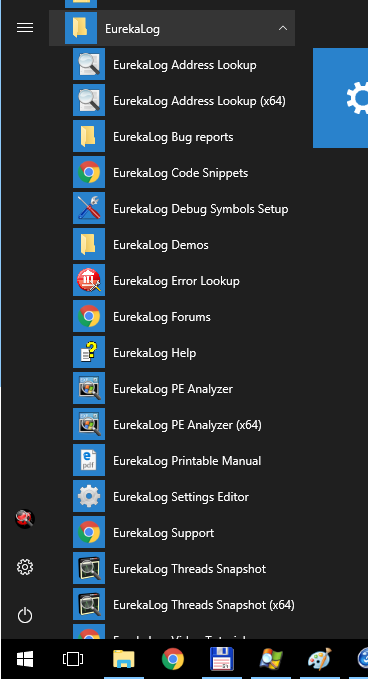 EurekaLog's menu items in Start menu
Find the "EurekaLog PE Analyzer" tool and run it (it should be in the "Tools" subfolder). Select your executable file with the help of "..." button and click on "Analyze" button.
Note: you can also run PE Analyzer tool via Tools \ EurekaLog \ PE Analyzer menu item in IDE (see also).
If your application was compiled properly, then you should see "Is EurekaLog image: True" and information about EurekaLog version: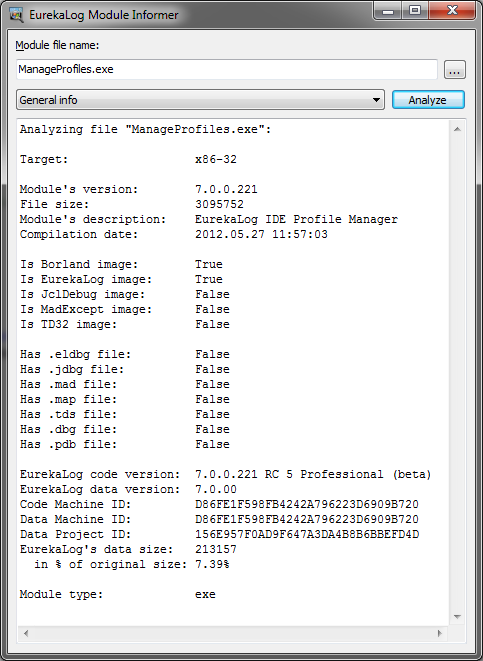 Typical output from Module Informer for correct compiled file
Make sure that this information matches your expectations:
1.

Compilation date

is now (i.e. you're not looking into old file);
2.

"

Is EurekaLog image

" = True;
3.

EurekaLog version

matches the installed version of EurekaLog (i.e. your installation is not messed up with new and old files);
| | |
| --- | --- |
| 4. | There are EurekaLog units inside (use detalization level "Units"); |
5.

EurekaLog's

code and data versions

match each other (up to first 3 numbers); EurekaLog code version must be higher or equal to version of data format. E.g. code = "7.0.3.0" and data ="7.0.01" is OK, but code = "7.0.1.0" and data = "7.0.02" is not;
| | |
| --- | --- |
| a. | Note: sometimes data format may be ahead of current EurekaLog version. For example, EurekaLog 7 supports data format from EurekaLog 8. |
6.

EurekaLog's code and data

machine IDs

match each other;
| | |
| --- | --- |
| a. | Note: this is true only if you recompile EurekaLog's units. Otherwise (if you are using precompiled files) "Code Machine ID" will be equal to EurekaLog's build server and never changes. |
You can also change "General info" to other (more descriptive) positions. Thus, you can inspect injected EurekaLog options, used units and other information.
If there is no problem with compiled executable, but it still doesn't work as expected - then you can enable debug mode to see what's going on.
See also:
---
Send feedback...
Build date: 2020-10-22
Last edited: 2019-09-16

PRIVACY STATEMENT
The documentation team uses the feedback submitted to improve the EurekaLog documentation. We do not use your e-mail address for any other purpose. We will remove your e-mail address from our system after the issue you are reporting has been resolved. While we are working to resolve this issue, we may send you an e-mail message to request more information about your feedback. After the issues have been addressed, we may send you an email message to let you know that your feedback has been addressed.

Permanent link to this article: https://www.eurekalog.com/help/eurekalog/verifying_eurekalog_enabling.php